Are you looking for a synchronization tool that allows you to two-way sync your Zoho contacts to Salesforce? If so, then this article should be helpful to you. Salesforce and Zoho are two of the top CRM platforms on the market. By two-way syncing contacts between Zoho and Salesforce organizations can access their most valuable resource—customer information and create a central database that supports both platforms. Users can even import data from Salesforce into Zoho as Leads, Contacts, Accounts, or Opportunities. Keep Reading to learn more about how CiraHub users to two-way sync contacts and manage multiple workflows between Zoho CRM and Salesforce.  
 This article will outline how to two-way sync contacts between Zoho and Salesforce. 
Thanks to this two-way sync feature, you  
Can access your Salesforce contacts in Zoho. 

 

Can access your Zoho contacts in Salesforce. 

 

Import Customer leads , Contacts , Accounts , and Opportunities

 
Set Up Two-Way Contact Sync Between Zoho and Salesforce
Create a Zoho Spoke
First, Log in to CiraHub. You will be taken to the onboarding wizard. Next, select the object to sync. 
Select

Zoho

as the contact spoke type.
Select Zoho Credentials to access its data.
Sign in to your Zoho Account.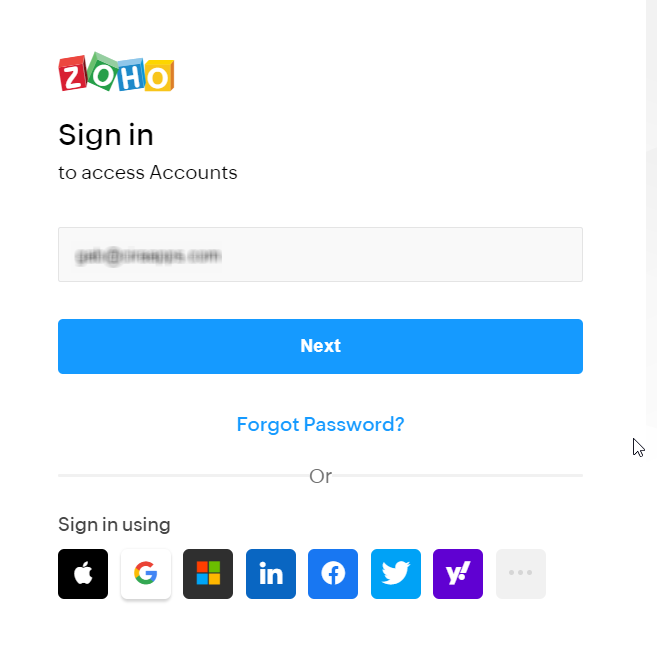 Click Accept to give CiraHub access to your Zoho account.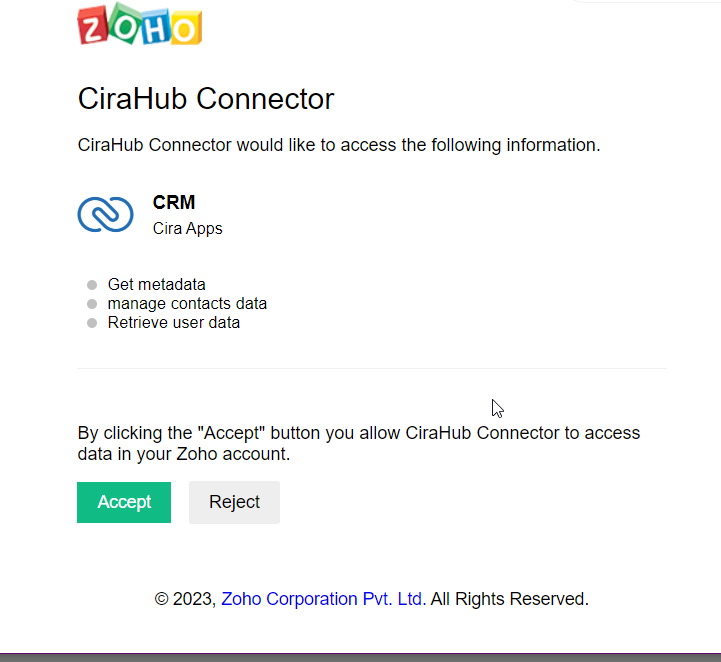 Type in a spoke name and click CREATE. 
 Create a Salesforce Spoke
Select the option to add an Additional Spoke.

Click on "CRMs" as your source type for your contact spoke. (The Hub contains all synced Contacts from each spoke; a spoke can be a Public Folder, a user mailbox, the GAL or a CRM.)

Select

Salesforce

as the contact spoke type.
Sign in with Salesforce to add your account to the Hub, or select an existing Salesforce account.
Select "Allow" to

two-way sync Salesforce contacts

and connect your Salesforce account to the CiraApps Salesforce Connector.

Type in a "Spoke Name" and click Next. 

Next type in the "Hub Name" and click Create.
Next, right click your spoke, and select "Sync Options". From there you will be taken to a new window, click the box which says, "Allow Hub to create and sync items in this spoke." This will enable two-way synchronization between the Hub and your spoke.

Click on "Allow Hub to create and sync items in this spoke". This will enable

two-way synchronization

from the endpoint to the hub database and back. Select Categorize Data in Spoke if you would like to filter out which items you would like to sync.

Click on "Sync now" to two-way contact sync Zoho with Salesforce. You can also edit any synchronization options for each of your spokes below.
Why Should You Two-Way Sync Your Zoho and Salesforce Contacts 
 By synchronizing Zoho CRM with Salesforce, users can save time and execute tasks more quickly and effectively. CiraHub helps users automate their everyday sales operations with the help of our two-way synchronization solution. Users can easily and conveniently two-way sync data between Salesforce and Zoho CRM using CiraHub. Instantly synchronize data between Salesforce and Zoho CRM and a variety of other platforms in both directions. Click here to learn more about how you can start a CiraHub trial today!