Multi-way Sync

Multiple Calendars

in Real-time
Don't waste your time toggling between calendars. Experience stress-free multi-way synchronization with CiraHub.
Schedule Confidently
With CiraHub, you'll never double-book or overlook an important date again. Experience stress-free multi-way synchronization with CiraHub.
Less Stress, More Success
Say goodbye to the anxiety of managing multiple calendars. CiraHub lets you navigate your day confidently, knowing every appointment is updated everywhere.
Simplified Calendaring
Between work, errands, and personal life, scheduling can be chaotic. With CiraHub, mark a time slot on one, and it's reflected across all linked calendars. No more endless juggling between business and personal calendars.
CiraHub is a multi-way sync tool that allows users to merge calendars from multiple sources and update the aggregated information across all sources. When a user makes a change to one calendar, it is automatically reflected in all others, avoiding errors and double bookings.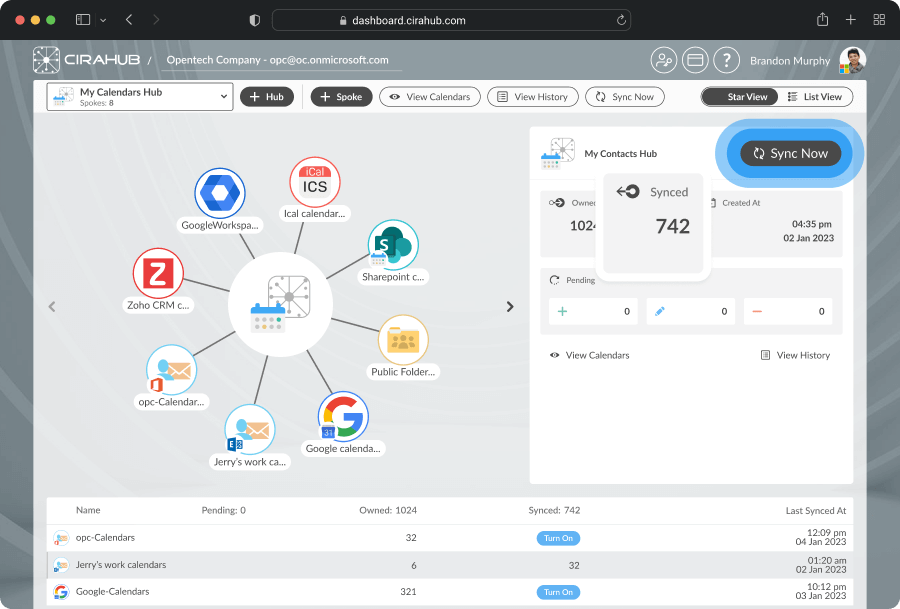 One Calendar, Multiple Sources
Seamlessly integrate calendars from various sources into one unified view. Google Calendar, Public Folder calendars, SharePoint - you name it, we sync it.
Boost Your Productivity
Let CiraHub do the work while you focus on your business. With centralized calendar management, there's one less thing to worry about.
Seamless Integration
Add an appointment here, remove a meeting there, and watch as CiraHub instantly reflects these changes across all your calendars. No more manual updates or missed appointments.
Centralized View
See all connected calendars on one centralized Hub. CiraHub makes it easy to add and detach an unlimited number of calendar spokes.  24/7 Support
24/7 Support
Our expert team is ready to assist with any and all issues 7 days a week.
Multi-way Sync Calendars With the Following Platforms
Introducing
Cirahub Calendar Mobile App
Your schedules at your fingertips. Stay synced on the go.
CiraHub's mobile app lets you access your unified calendars conveniently. Whether you're at your desk, the coffee shop, or on vacation, your schedule is always just a tap away.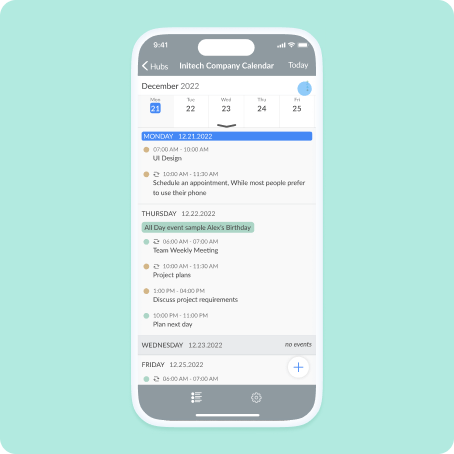 Connect with Ease:
Organizing a meeting? Send out invites directly from the app. Connecting with colleagues, friends, or family has never been simpler.
Seamless Calendaring:
Navigating your calendar has never been easier. Our user-friendly dashboard ensures you always have a clear view of your upcoming events and plans.
Stay Notified:
Never miss an event again. Set up personalized notifications for any calendar event to keep you on track.
Get a taste of Two-Way Sync. Try CiraHub Today.
All you can eat with CiraHub. Unlimited Spokes and Hubs free for 10 days. Get Started Today.